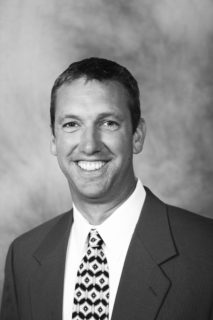 David Schaff, P.E.
Vice President | Engineer
Phone: 308.635.1926
Email: [email protected]
Start Date: 11/13/2000
David is the President and manages the firm's Scottsbluff and Cheyenne Office. He is very aspirational and is esteemed by his employees, clients, and peers as a devoted and inspiring leader and teacher. He is known for the professionalism he displays with clients, his incredible knowledge of the trade, and his deep passion for providing excellent service.
David has a unique talent for project management and a passionate devotion to his clients. During his career, David has been involved in preliminary engineering reports planning, investigation, analysis, design, and the construction of hundreds of private and public projects. Every year, David oversees numerous projects and has experience in a wide variety of project deliveries including Design-Build, Construction Management, and Project Phasing. David is Principal in charge and Project Manager on multiple projects every year including Airport Runway Rehabilitations, Fire Stations, Site Development for public and private clients, environmental site investigations, construction of several municipal water and wastewater improvements, as well as a great Contract Manager with the Federal Aviation Administration, Nebraska Department of Roads, Wyoming Department of Roads, Wyoming Department of Transportation, the Nebraska Department of Environmental Quality, and the Wyoming Department of Environmental Quality.